---
I grew up in Adairsville, and I have lived in Calhoun (specifically in the Sonoraville area) since I was married to my husband, Trevor, in 1999. We have one child, Hunter, who is eight years old and a third grade student at Swain. I have a deep love and adoration for animals, and our pets (4 cats and 3 dogs) hold a very special place in my heart. I am also a member of Philadelphia Baptist Church in Calhoun.
I truly enjoy my career, and each new school year brings numerous opportunities to touch young lives. I am also amazed each year at how much my life is touched by the students. Even as a very young child, I knew I was destined to be a teacher.
I strive to help teachers establish a learning environment in which all students are comfortable, challenged, and aren't afraid to make mistakes. Because I believe that all students can learn and are important, I hold high expectations for all of Swain's students, regardless of their academic ability. Each day I will treat the students with respect and help them build their self-confidence. I will encourage them to believe in themselves and make it evident that I believe in them also. I want our students to strive to do their best at everything and to never be afraid of attempting something new.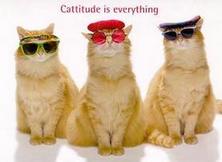 Cats are like potato chips...you can never have JUST one!